And if you get a chance to see The John McCloy Band live, take it!"

—Jim Nelson, 88.5 FM KCSN Los Angeles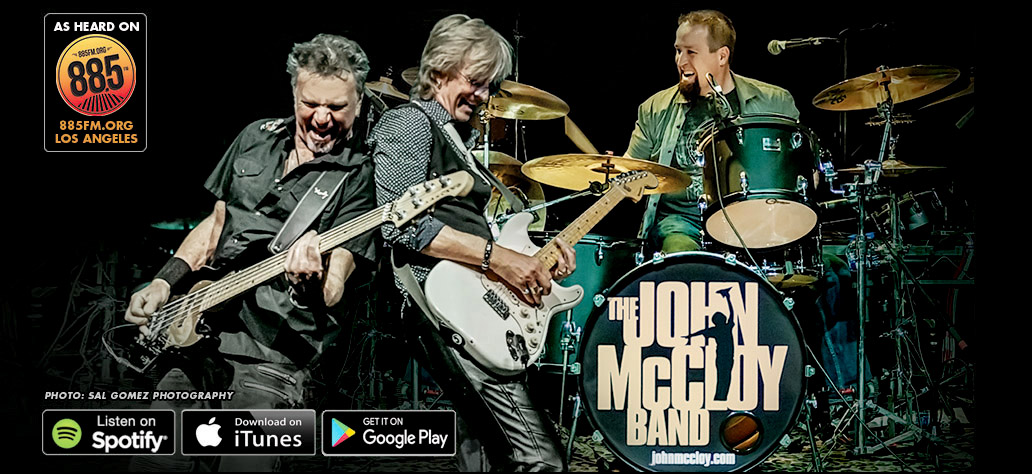 MUSIC

Years of playing the LA and Hollywood clubs eventually landed John in Ten Inch Men.
They signed with Victory/Polygram and, after being produced by the incomparable
Neil Dorfsman (Sting, Dire Straits, Springsteen, McCartney), they went on to support
Bon Jovi and Extreme playing 10,000 seat amphitheaters.
With touring experience, live audiences became the true barometer for what resonates.
Absorbing what moves them live and, applying it to years of studio production experience,
John has culminated his songwriting and recordings into The John McCloy Band.
His writing is the perfect blend of unique and familiar.
Check out their latest releases.
They're available for download or streaming at all music online sites like
iTunes, Amazon, Spotify, YouTube… wherever else you get your music.


GRAPHIC DESIGN

John got his Bachelor's Degree in Fine Art/Graphic Design at UCLA and worked day jobs
while playing the clubs. His first entertainment-based design job was as a paste-up
production artist at CBS-TV doing TV Guide ads. His resumé and portfolio filled
up with work for the major film studios.



FINE ART PAINTINGS

Dyansen Galleries in Beverly Hills displayed his paintings of Rock, Blues and Jazz artists.
Here are the ones still available.
VISITORS: 897.8K